Featured Products
Advertising Specialties

Claim space for your brand in every recipient's office or home. With branded gifts and giveaway items, a simple mug or hat can make a big, lasting impression.

Mailings

With a busy workload, you have more important things to do than folding, stuffing, sealing and stamping. Let us handle the small stuff, with mailing services that get your campaign out on time, every time.

Offset Printing

Producing consistently high-quality printing even over long runs, offset printing is the most cost-effective printing method for larger jobs. We offer one-, two-, three- and full-color offset printing for a wide variety of paper sizes and stocks.
Hot Off The Press
Posted on 01/22/2018

Both insourcing and outsourcing a business blog have their advantages in business, so today we're going to take a deeper look and see which is the better fit.

Posted on 01/15/2018

If you have a business page, how can you utilize Facebook to increase your followers and grow sales? We have some tips for how to improve your engagement on Facebook.

Posted on 01/08/2018

How exactly can you utilize local search engine optimization for your website? Here are the first few steps in integrating local SEO best practices for small businesses.
Welcome to Acclaim Print and Copy Centers!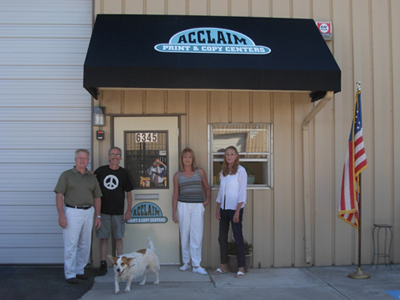 We're here to help!
Whether you need just a small box of business card or want to mail out thousands of postcards, we can take care of it for you. Many people prefer to do business with a local printing company, well we've been here in Dublin for more than 35 years. If you like to order printing on-line, our Customer Portals allow you to view and order previously ordered printing right from your computer!
To place an order or get help with a new project, use the Customer Service tab. To download print drivers and other software, click on the Resources & Support tab. To learn more about us, browse through our Company Information section. To return to the home page, just click on our logo in the upper left corner of any page. An easy-to-use pulldown menu, search engine, and link to our contact form appear at the bottom of each page. Be sure to let us know if there is anything we can do to improve the site. Enjoy your visit!