Featured Products
Advertising Specialties

Claim space for your brand in every recipient's office or home. With branded gifts and giveaway items, a simple mug or hat can make a big, lasting impression.

Mailings

With a busy workload, you have more important things to do than folding, stuffing, sealing and stamping. Let us handle the small stuff, with mailing services that get your campaign out on time, every time.

Offset Printing

Producing consistently high-quality printing even over long runs, offset printing is the most cost-effective printing method for larger jobs. We offer one-, two-, three- and full-color offset printing for a wide variety of paper sizes and stocks.
Welcome to Acclaim Print and Copy Centers!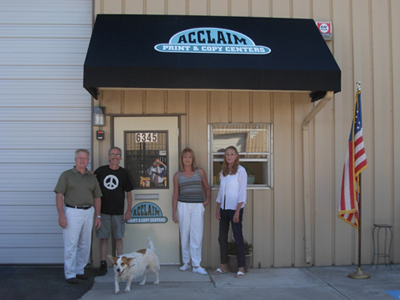 Acclaim Print and Copy Centers has moved! Our new address is 6345 Scarlett Court, Dublin.
From our previous location, drive East on Dublin Blvd., after crossing Dougherty Rd just past Dublin Honda turn right, Low Price Auto Glass is 1st building, drive down to the second building, there is a black fence middle unit a banner is on the fence and our black awning with our logo above the door.
To place an order or get help with a new project, use the Customer Service tab. To download print drivers and other software, click on the Resources & Support tab. To learn more about us, browse through our Company Information section. To return to the home page, just click on our logo in the upper left corner of any page.
An easy-to-use pulldown menu, search engine, and link to our contact form appear at the bottom of each page. Be sure to let us know if there is anything we can do to improve the site. Enjoy your visit!